Accelerate Windows 7 migration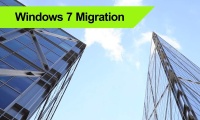 Learn how Appsense helps businesses migrate to Windows 7 more quickly and at lower cost.
Windows 7 Migration - One year to go!
With Windows XP support ending in 2014, having a solid Windows 7 migration plan for all desktops, both physical and virtual, is vital. So the million dollar question is; what is your plan to migrate from Windows XP to Windows 7?
AppSense's proven solutions including DesktopNow and DataNow enable businesses to realize the benefits of Windows 7, quicker and with less risk, saving both time and money. Capable of managing the most complex and diverse combinations of users, apps, and data, AppSense enables a proven, cost effective and seamless migration to any new desktop operating system.
Happy to pay for Windows XP custom support? We give it a year
After April 8th 2014, organizations have two choices:
Pay for a very expensive custom EoL support contract
Be forced to accept the business and security risk of zero support
Either one of these aren't nice choices. Windows XP EoL custom support agreements can run into the millions for larger businesses and without support, organizations are at the mercy of hackers, poised to attack the soft target. With 34 high severity security patches for Windows XP vulnerabilities in the first quarter of calendar year 2013 alone, can you afford to gamble on the risk?
You don't have to. AppSense can help you migrate faster at lower TCO!
Migrating from Windows XP to Windows 7 shouldn't be complicated. Explaining why you haven't could be.
Reduce the time, cost and complexity
We have already cut the time, cost and complexity of moving to Windows 7 by over a third for thousands of organizations around the world and is recognized by Microsoft, analysts and customers as a key strategic component to adopting Windows 7.
Eliminate user disruption – zero downtime migration
You can seamlessly migrate and transfer user's persona and data dynamically from Windows XP, Windows Server 2003, and Windows 2008 to Windows 7. Users can move back and forth seamlessly between platforms. Users remain in control and productive.
An efficient, cost-effective Windows 7 desktop
DesktopNow and DataNow simplify desktop operations in ways previously not thought possible. Ongoing cost and timesaving benefits multiply by simplifying app, desktop, and user management across all physical and virtual desktops. Achieve true desktop and device independence - a user never needs to be migrated again.
Best of all, it also works post rollout of Windows 7. It optimizes your Windows 7 environment, enhances the user experience and reduces desktop management & operational costs that couldn't be achieved otherwise.
Difficult finding the right partner to migrate from Windows XP to
Windows 7? Microsoft disagrees
"AppSense's people-centric approach to IT services, in combination with its innovative and proven technology, enables customers to separate users from the operating system and manage them independently across all Microsoft platforms, both physical, and virtual. This enables IT to move to Windows 7 or 8. Our customers benefit greatly from working with our Desktop Enablement Partners, especially when moving to the latest version of Windows." David Rodger, Windows Client Commercial Lead at Microsoft
Key challenges…solved!
Transfer employees off Windows XP, retain their persona and data for maximum productivity and minimum business disruption
Avoid Windows XP EoL support – and being in an unsupported state
Support the move of distributed and remote office users
Help to solve application compatibility issue with Windows 7 User Account Control (UAC)
Benefits
✓ Deliver faster Windows 7 rollout
✓ Zero user disruption – migrate even during the day!
✓ Reduce operational costs
✓ Works with all apps, desktops, and data
✓ An efficient way than tactical one-way rudimentary migration methods