High performance, cost-effective desktop virtualization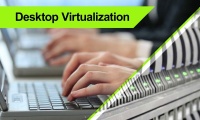 This video shows how AppSense is a key part of achieving complete desktop virtualization.
Enterprise computing is undergoing a period of unprecedented desktop transformation. While traditional PCs remain predominant in most organizations, a new generation of desktop virtualization technologies offers new endpoint efficiency and security opportunities to enterprise IT teams.  In addition, many desktop virtualization projects are compounded with simultaneous application virtualization projects.  For every success story, there are countless IT projects that have found the road to virtualized desktops to be more complex and costly than expected.
Key Challenges
High server and storage infrastructure costs.
Migrating users from physical to virtual desktops.
Rollout deployment risks and unforeseen complexity.
Minimizing user disruption while preserving each user's experience.
How AppSense Helps
Consistent user experience
Deliver and seamless, personalized experience across both persistent and non-persistent virtual desktops, regardless of OS.
Precise user control
AppSense applies context-aware personalization and policy on-demand, ensuring consistent policy enforcement regardless of where each virtual desktop originates. Manage all desktop configuration and user policy from one location.
Seamless integration across all desktops
Seamlessly integrate virtual desktops alongside physical PCs and remote desktop session hosts, enabling IT to place users on the best desktop for their deployment scenario.
Single image user management
Standardize on a minimum set of desktop images and application libraries by using on-demand personalization, including App-V delivered applications.
Benefits
Enables up to 40 percent improved efficiency across server and storage resources.
Accelerated user on-boarding & migration from physical to virtual desktops.
Reduced user complexity across large desktop virtualization deployments.
Dramatically improves user acceptance and satisfaction.